what is Dynamics 365
January 12, 2022
2022-09-01 6:16
what is Dynamics 365
what is Dynamics 365
We are happy to announce the launch of Dynamics 365 Academy – an online platform for video courses on Microsoft Dynamics 365 and Power platform.
At D365 Academy, we understand the need for professionals training courses on Dynamics 365 domain. There is a serious lack of courses in this domain. With the introduction of Dynamics 365 the need for Microsoft Dynamics CRM and ERP consultants shot up. On LinkedIn we can there are more recruiters for Dynamics 365 consultants than real consultants in the market.
At our parent company – Magnifez Technologies, we train a bunch of resources as part of our projects and we saw them got hired into corporate companies. Delivering real-time classroom trialings are time consuming and resource heavy, and the we have a steady demand for recording of our online training sessions.
That is when we decided to produce qualify video courses on Dynamics 365 and we are launched couple of video on Dynamics 365 Customer Engagement and we are so excited to announce we made these courses available to the public.
What is Microsoft Dynamics 365?
Dynamics 365 is a cloud-based enterprise solution from Microsoft which combines Customer Relationship Management (CRM) and Enterprise Resource Planning(ERP) features together. It is the upgraded version of Dynamics CRM, but it is more than just CRM. The CRM arrangement is a streamlined procedure. It expands benefit in Marketing, Sales, and administration divisions. Whereas ERP is usually termed for business management software. It mainly suits integrated applications that an organization is used to manage, store and collect the interpret the data from the business activities like sales, SRM, Production, Distribution, Accounting, Human Resources, Enterprise, asset management-commerce, CRM, Business Intelligence etc.
Microsoft Power Platform
Microsoft power platform helps organizations and consultants to develop business applications using drag-and-drop features in a much faster way. The platform is quite new in the market but gets lot of acquisition from organizations because of its simplicity and powerful features.
Power platform primarily includes 3 applications:
1. Power Apps
3. Power Bi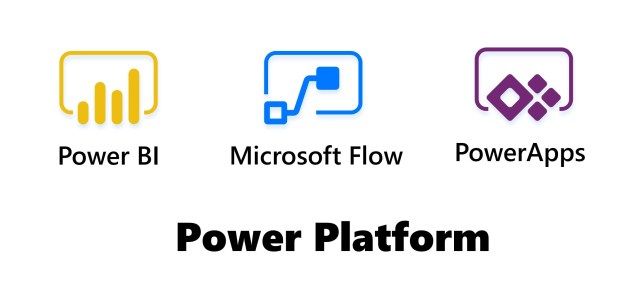 PowerApps enables you to build applications in a UI way, that is with almost 'no code' or low code.
Power Automate is used to setup automation and light integrations among multiple applications – those can be Micrsoft or third party applications. An example would a simple integration between Google sheet and SharePoint. Using Power Automate you can both these applications for every new row added to the Google sheet you can create a file or item in the connected SharePoint site.
Using PowerBi you can develop very comprehensive and beautiful dashboards and reports for analysis of your business data. Yes, you can develop simple and useful reports using drag and drop features of Power Bi.
Conclusion:
Microsoft Dynamics 365 and Power platform have changed the way developers build business applications and there are lot opportunities out there to learn these technologies.